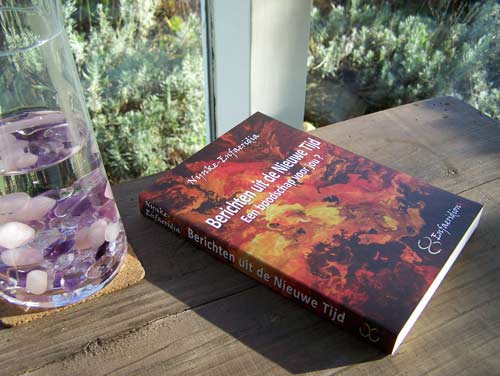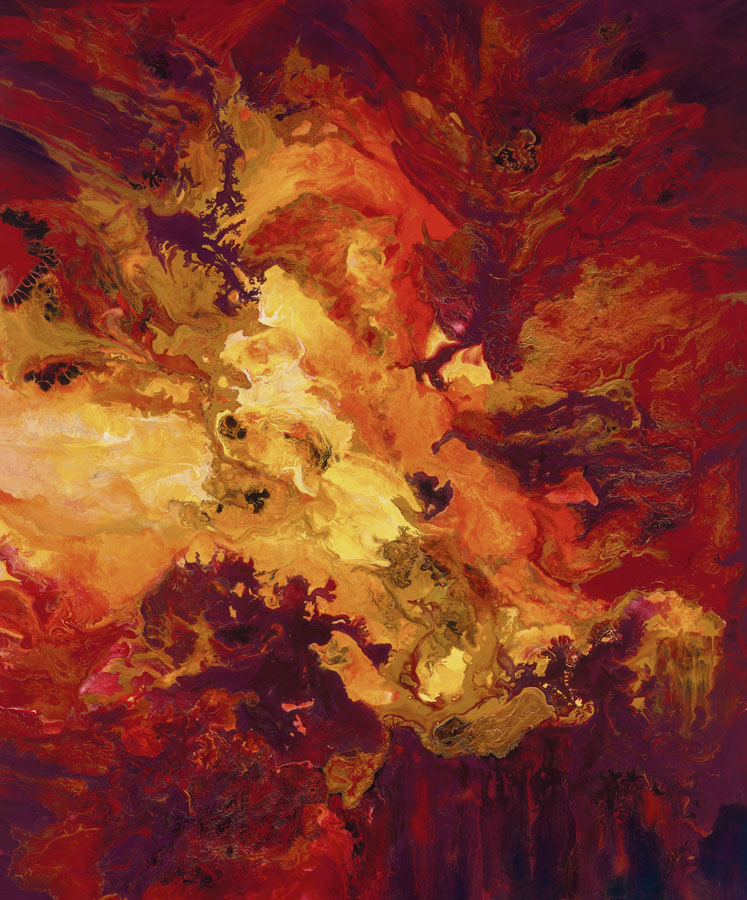 Boek omslag
Eén van mijn schilderijen is gebruikt voor de kaft van het boek ´Berichten uit de Nieuwe Tijd, geschreven door Nynke-Enfaeridia.
Het vervult mij met een diep gevoel van dankbaarheid dat mijn schiderij staat op de kaft van een boek, dat mij diep geraakt heeft. Een boek, waarbij ik het gevoel heb dat het speciaal voor mij is geschreven, waarbij ik persoonlijk word aangesproken. Een boek dat bij mij gevoelens teweeg heeft gebracht van vreugde, hoop en verlangen. Verlangen naar geluk, naar schoonheid, naar tederheid, naar echtheid, naar eerlijkheid, naar zoveel eigenlijk. Hoop, dat het allemaal mogelijk is, dat het binnen mijn bereik ligt. En vreugde, omdat er nog zoveel te ontdekken is. En iedere nieuwe ontdekking vervult mij met vreugde.
Een boek waarin ik mijzelf herken als een zoeker naar de waarheid, naar de reden van het leven, van mijn bestaan. Vragen waar ik mijn hele leven al mee rond loop. Een boek dat mij terugverwijst naar mezelf. Naar wie ik ben, naar wat ik wil, naar wat mijn dromen zijn, naar mijn gevoel,…….. naar mijn stilte. En in die stilte gebeurde er iets heel wonderbaarlijks. Ik kreeg nieuwe ideeën, nieuwe gedachten, nieuwe gevoelens. Er ging een nieuwe wereld open, een veel ruimere wereld met veel meer mogelijkheden. En ook veel meer vreugde.Een boek, kortom, dat mijn leven heeft veranderd en wel ten goede.
Mijn dank gaat dan ook uit naar Nynke-Enfaeridia en haar partner Rien, zonder wie de kunstenaar in mij nimmer was geboren. Voor meer informatie over het boek en haar werk verwijs ik u naar www.enfaeridion.nl
Caroline.
Book cover
My painting 'Silence' is used as book cover for ´Berichten uit de Nieuwe Tijd, written by Nynke-Enfaeridia.
I feel great gratitude for this, as this book has touched me deeply. Her book gives me the feeling it was written especially for me and in which I feel personally addressed. A book which gave me feelings of joy, hope and desire. Desire for luck, for beauty, tenderness, authenticity, honesty and many other feelings. Hope, that it will all be possible, that it is within my reach. And joy, for there is so much to discover. And every new discovery fills me with joy.
A book in which I recognize myself as a seeker for truth, a seeker for the reason of life, my being. Questions I've been asking myself all my life. A book guiding me back to myself. To who I am, to what I want, to what my dreams are, to my heart …….. my silence. Within this silence something remarkable happened. I got new ideas, new thoughts, new feelings. A new world revealed itself to me, a world with more possiblities. And also more joy. A book, that changed my life for the good.
I want to express my gratitude to Nynke-Enfaeridia and her partner Rien, without whom the artist in me was never born. More information on the book can be found at www.enfaeridion.com
Caroline.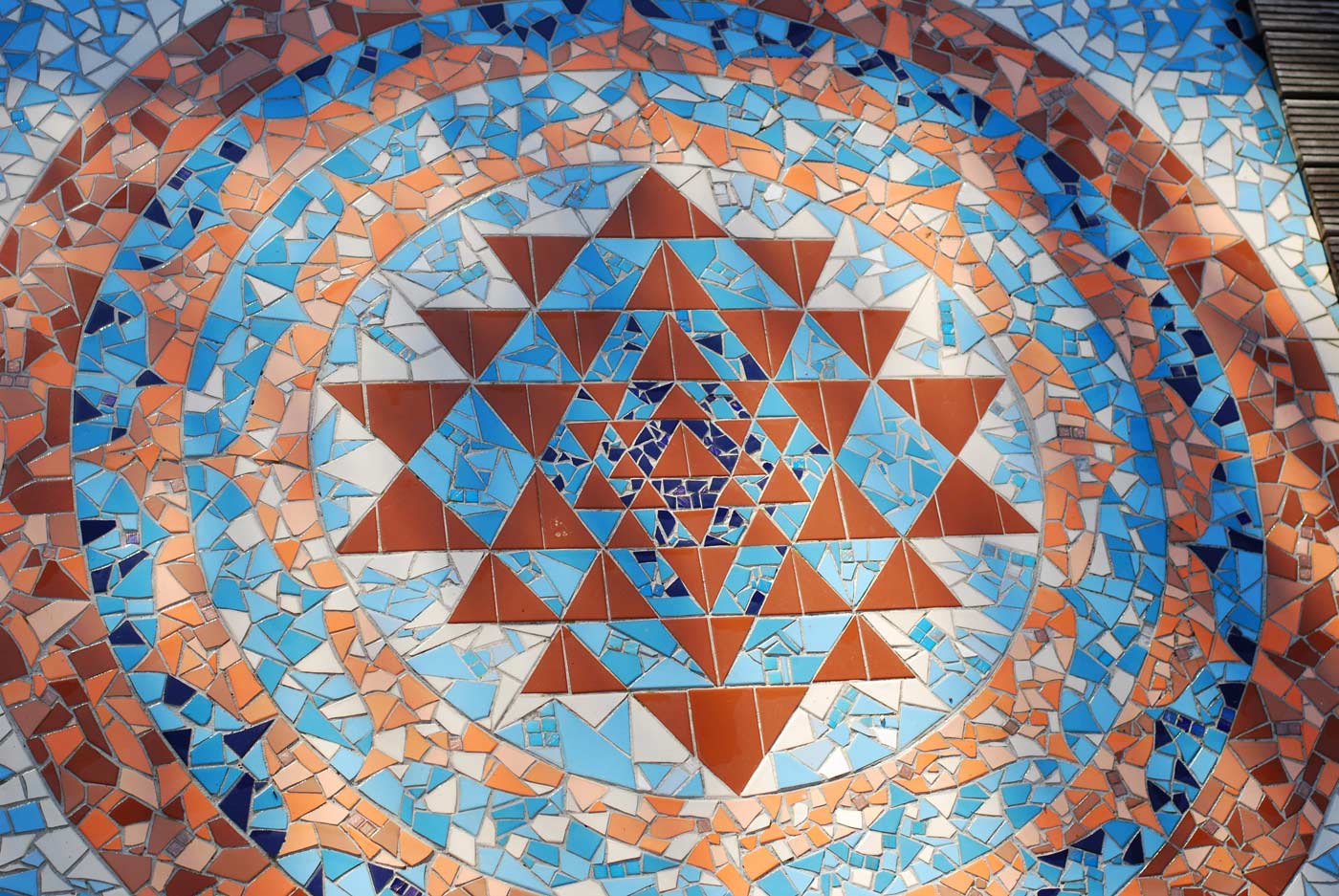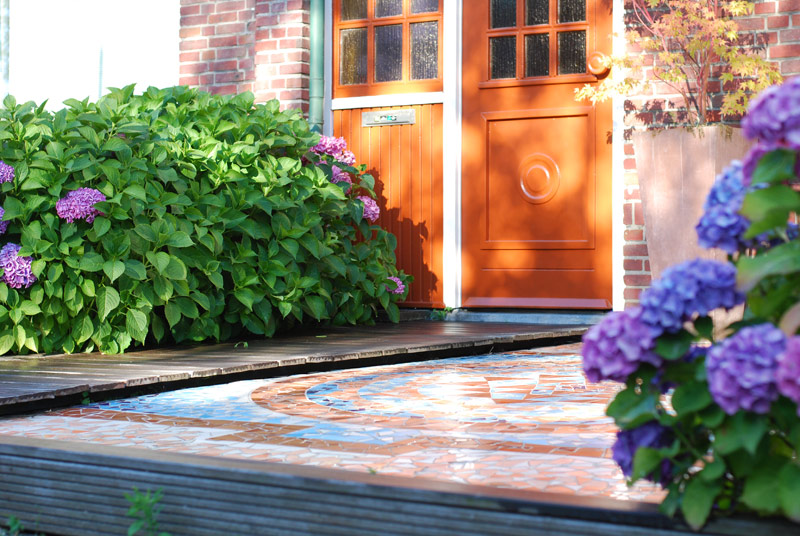 Mozaïek
Dit mozaïek is een afbeelding van de 'Sri Yantra'.
In 2 jaar tijd heb ik dit werk samen met mijn partner voltooid in onze voortuin.
Mosaic
This mosaic is called the 'Sri Yantra'.
It was created in a period of 2 years as a joint effort from me and my partner. it took us two years to complete.