CAROLINE HAMER – VAN DEN BROEK
KLEUR
Ik zocht naar vreugde, passie, naar kleur in mijn leven. Zo begon mijn reis op weg naar mijzelf. Gedurende die reis heb ik geleerd om in stilte naar mezelf te luisteren, om te luisteren naar wat er in mijn hart leeft. Een nieuwe wereld, vol met magie, passie en vreugde, ging voor mij open. En de kunstenaar in mij ontwaakte. De schilderijen werden geboren, ontstaan vanuit mijn hart waar een onuitputtelijke bron van creativiteit aanwezig is.
COLOUR
In search of joy, passion, colour in my life. That's how the journey to myself began. During this journey I learned to listen to myself, to listen to my heart. A new world full of magic, passion and joy revealed itself to me. The inner artist awoke. This gave birth to paintings originating from my heart in which beholds an infinite source of creativity.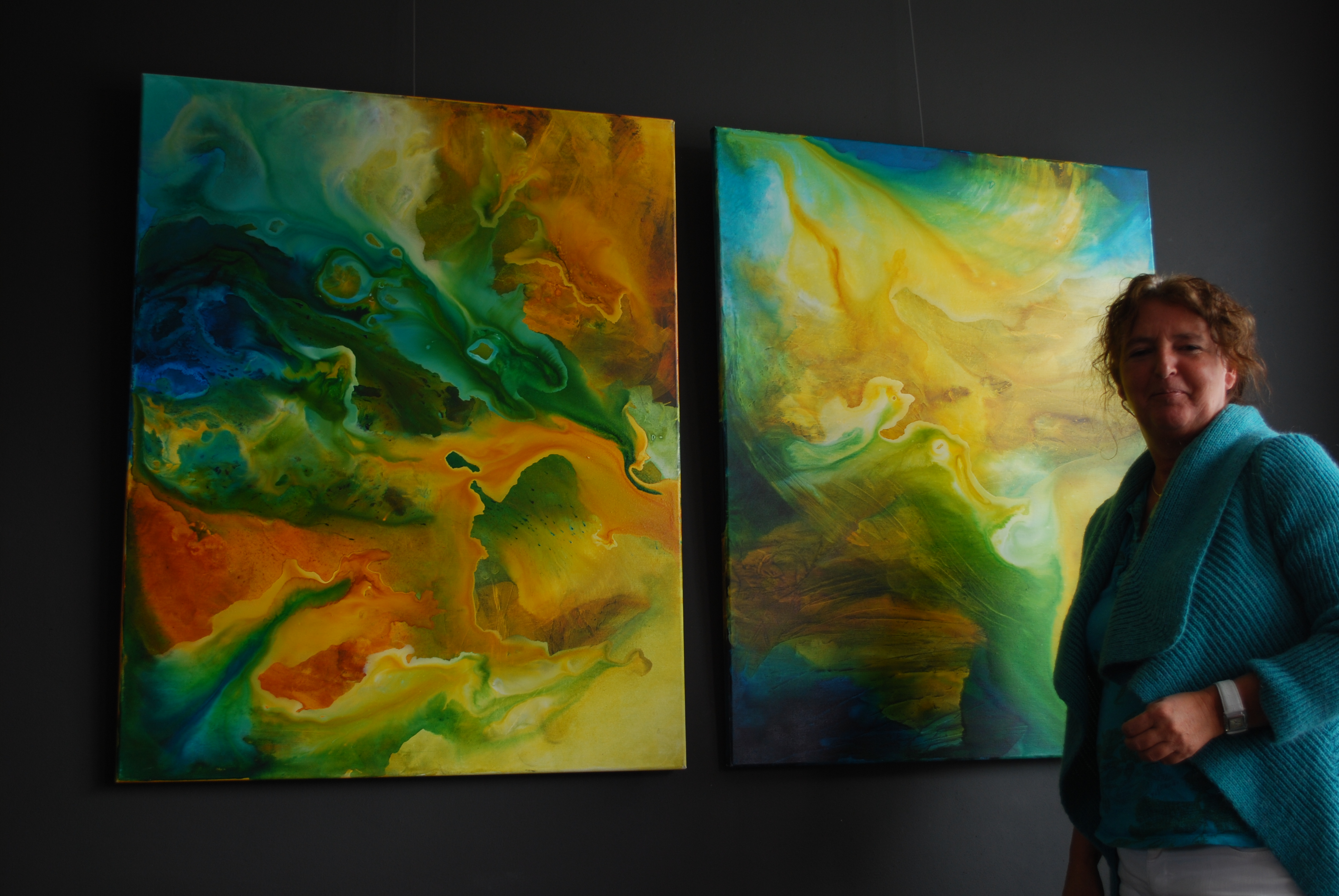 Vanuit het hart
Beleef de energieke schilderijen en een nieuwe wereld gaat voor je open. De wereld achter de vormen, een gevoeldwereld, uitgedrukt in intense kleuren. Ze stralen een vreugdevolle energie uit, omdat ze in vreugde zijn gemaakt. Ik schilders vanuit mijn gevoel, waarbij de ideeën spontaan in het moment zelf ontstaan. Spelend met uitsluitend zuivere acrylkleuren, vinden de kleurmengingen op het doek plaats. Laag voor laag ontwikkeld het schilderij zich, waarbij de uitkomst altijd een verrassing is.
From the heart
Experience the energetic paintings and a new world reveals itself to you. The world beyond the forms, a world of emotions expressen in intense colours. They radiate a joyful energy, because they are created in joy. I paint form the heart, and ideas arise spontaneously in the moment. Playing with only pure acrylic paints, new colour compositions arise on the canvas. Layer by layer the painting develops, the result is always a surprise.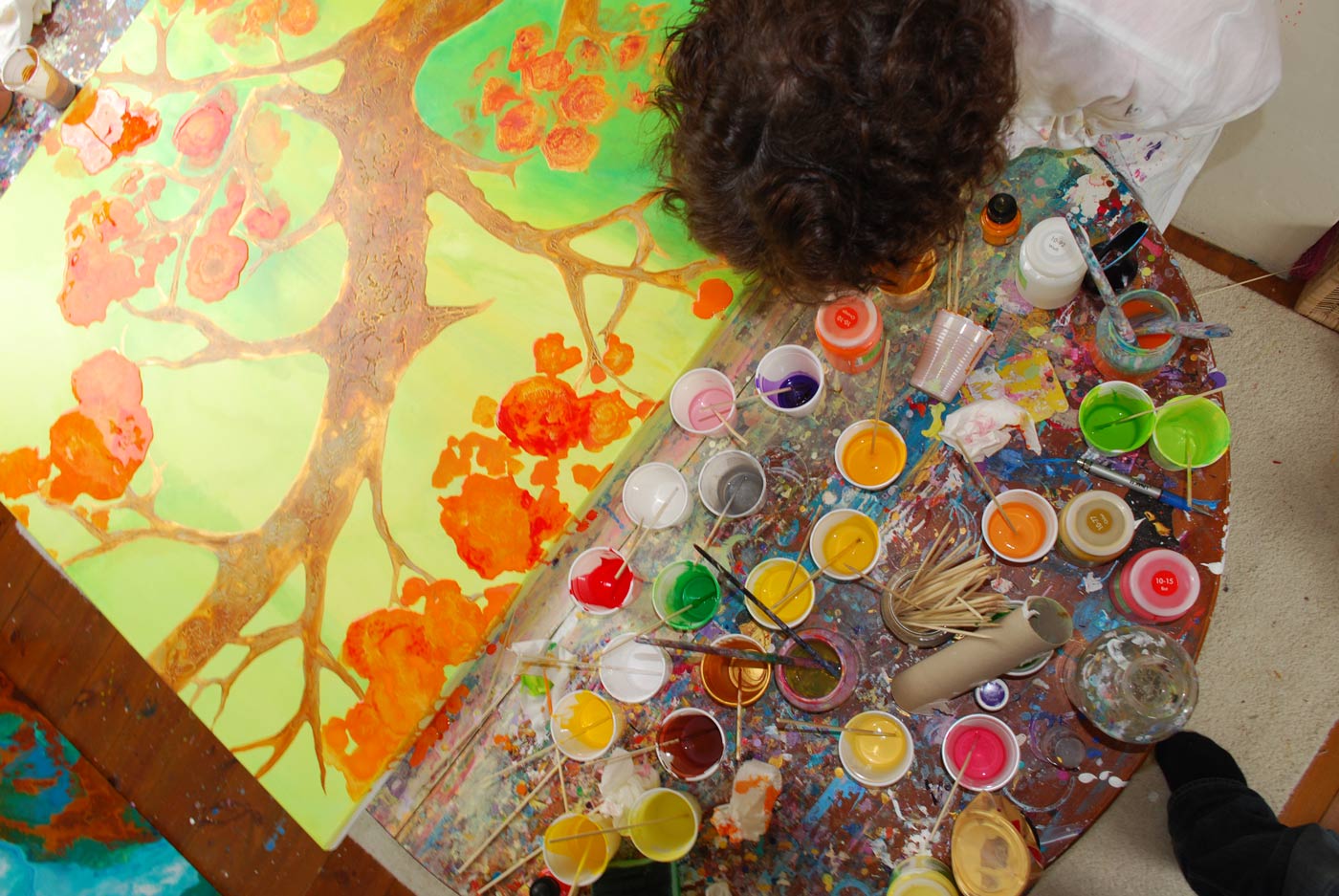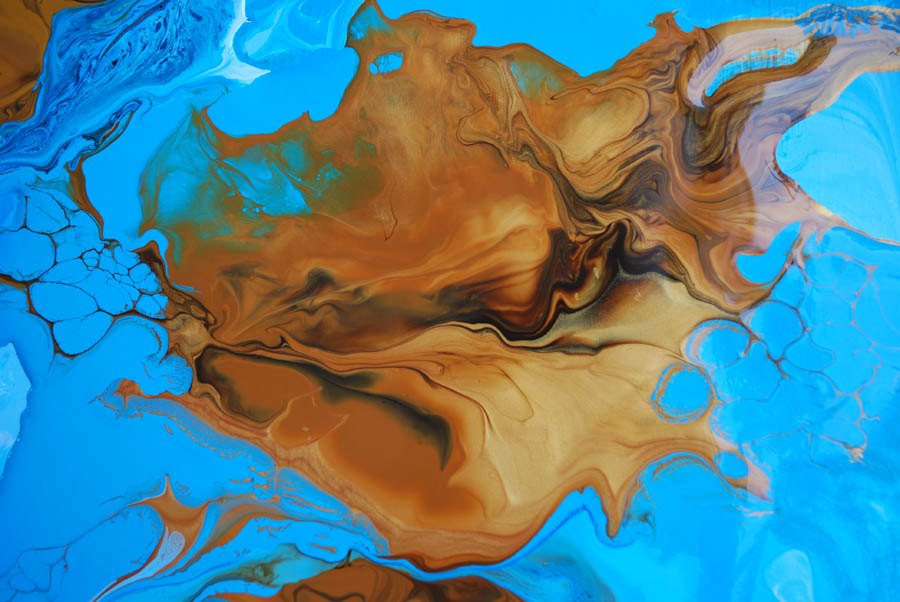 De ontdekking van de magie van het leven
De essentie van mijn schilderijen bestaat uit uitbundig kleurgebruik en beweging, geïnspireerd op het leven zelf. Ik zie het als magie, zoals ze mijn leven weerspiegelen. Ze maken een ontwikkeling door … vernieuwen zich … net als ik. Samen met mijn gezin gaat mijn reis verder van kunstenaar tot levenskunstenaar. Want dát is mijn innerlijke drijfveer.
THE DISCOVERY OF LIFE'S MAGIC
The essence of my paintings consists of extensive use of colours and movement, inspired on life itself. I see it as magic, like they reflect my life. They evolve … renew themselves … like me. Together with my family my journey continues. The journey from artist to the art of living. Thát is my inner drive.